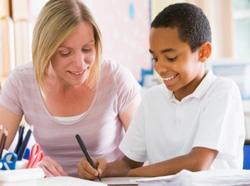 Any student of history can recognize the connection between productivity and reward in the establishment of the American way of life. And what about today? Is the tight connection between work and reward lived out in your classroom?
Far too many of our students question the benefit of school. They make Google their best friend and preface every assignment with, "Am I ever going to use this?" Quite honestly, if they're not going to have to find the volume of a sphere and if they can Google the majority of the content on your test, where does hard work fit in?
I recall that my sixth-grade teacher always had challenges around the classroom. Periodically, one of her challenges came with an enviable "five minutes free time" certificate. The first of her hundred plus students to solve the problem earned the reward. On occasion, it took weeks for anyone to find a solution, but we did it—every one of them. She not only held us to the highest of standards every day, she gave us opportunities that made us want to work even harder.
This year, have a classroom where productivity is prized. It starts with you.
Prepare. Teachers know which students did their homework, and the opposite is also true. Students know which teachers did their homework.
Create. Don't be that teacher that downloads too many lessons from the internet.
Inspire. Find a way to make obscure, seemingly useless lessons relevant.
Require. Everyone gets an equal opportunity to excel.
Personalize. No teaching over the top of the head; every student deserves eye contact and a smile.
I would challenge you to go beyond an elementary-style behavioral system where the average student who humdrums through the day with minimal effort, all the while avoiding disturbance to his classmates, can achieve top rewards. While not to be discredited for its infinite value in maintaining a healthy learning environment, I'm not sure this system instills the benefits of academic achievement. Be the teacher who day after day after day shows students the connection between working today and living the life they want in the future.